When you send mail or upload files online, you're limited capacity attached file, it's frustrating if not solve it. You forced to split it out. Then you will need toHJSplit.HJSplitmedium can help you split a file into several parts that are small and that the pairing of the original file into a complete, both the auxiliary functions such as comparing two files and check the checksum of file.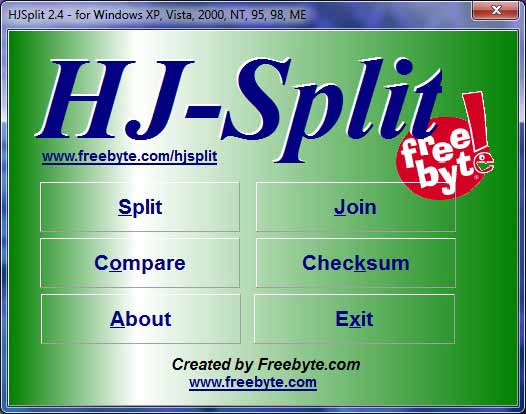 HJSplit 2.4 | Softwarecut and join files
Software HJSplitoften used to split a large file into several smaller ends 001, 002, 003 etc. ... When encountering such files, you need to use theHJSplitto connect the small parts into a complete file to use.The download, unzip somewhere on your computer is finished, no need to install anything. When the user simply double-clickmouseleft on the filehjsplit.exeis running.

A. How to split a large file into small equal-sized
(Except the last part is always smaller than the rest)
1. Click Split.

2. Choose the size of each fraction (in the example is 90).

3. Choose divided by KB (for small files) or MB (with large files). Note 1 MB = 1024 kB, So in this example I chose divided into smaller file size of 90 MB.

4. Click the Input button to find the file to split.

5. Navigate to the folder for the file to split.

6. Choose file to split.

7. Selected, click Open to return to work of the Split window.

8. Press Start is finished.
B. Connect the small (001, 002, 003 etc. ..) has split with HJSplit together into the complete file
Note. To be connected, the fraction must be placed in the same directory.
1.Select Join

2.Click Input

3.Navigate to the folder for the fraction
Note: When connecting this, you only see small parts ending with 001. This is normal when running HJSplit will automatically find the rest 002, 003 etc. .. to reconnect with this part 001.

4.Select 001

5.Click Open

6.Click Start, the program will automatically connect the small parts into complete files.

7.If you encounter a file that the dealer has a password file, you need to reconnect the new password.
Software Name
: HJSplit 2.4
Key Features
: Software to cut and join files
Size
: 570 KB
Download "HJSplit 2.4" FULL

skywriter76

Moderator





Jumlah posting

: 104


Poin

: 1293


Reputation

: 1


Join date

: 2010-05-21




---
Permissions in this forum:
You
cannot
reply to topics in this forum